I'm on the fence with Café Athena because of the last visit I had there. I ordered the souvlaki plate with a side of lemon soup. The soup was ok, not really warm enough, but it's a pretty good mix of lemon juice, egg, and chicken, enough to slip in and give you a little tickle. I have had better, though it was in Cyprus and Greece!
I'm spoiled I guess, but I mean if you are going to make Greek food and charge Café Athena prices for it ($10-20 an entrée?), you better bring it on. These guys catered our wedding actually and I have to highly recommend them. My guests always bring up the food and always rave about how great it was. Maybe it was because they weren't eating the usual chicken breast with salty gravy wedding food and were eating hummus. Their staff were excellent too, keeping everything moving well and clean behind the scenes. Being that it was my wedding I had a bite of food before I had to talk to the next Uncle Johnny, but their souvlaki skewers were excellent.
Here, at the restaurant, their souvlaki skewers were so-so, to say the least. Actually they weren't good at all. Though they were cooked well, my lunch skewers were too big, meaning that the flavor they were marinating in for whatever time didn't have enough to soak into the meat. The meat was dry, big pieces of chicken, and actually the flavor of the outside was seared off and blackened. Maybe it tasted like they had been sitting around for awhile and were reheated, I don't know, but they were way too expensive for that.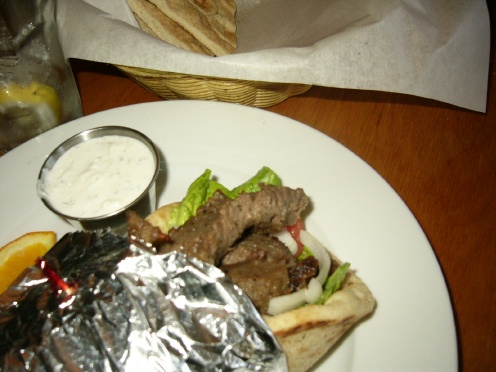 I wasn't sure what kind of rice I ate with it either, it was kind of soft and mushy and really lacked any sort of flavor, even a hint.
The dish was served with a side of bramini (the red sauce stuff in the first picture above), which was ok though really tasted like I was eating spaghetti sauce that I was cooking on the stove. I couldn't escape the feeling that I was eating spaghetti sauce on the side, tasted can quality too. Really, nothing about the dish was that Greek except for their tzakiki sauce which I actually liked, though it was also a little bland.
My wife ate a gyros sandwich, which she enjoyed, though I suspect that ubiquitous gyros generic meat rather than a home-grown gyro's rotisserie. I would like to see their kitchen actually, to see if they have a rotisserie, I bet they don't. Most Greek restaurants don't, or if they do they have that generic gyros tower that you buy from one wholesaler in Iowa or something. The one gyros meat thing you can get at Jake's diner, the mall, Greek Fiesta Restaurant or pretty much everywhere, you know, mall gyro.
I always say gyro like "Ji-Ro" just to make people upset or uncomfortable. Give me Ji-ro plate please, and they are like "ok, just keep calm, don't correct him…" Though who knows how to pronounce it, I read on wikipedia that Ji-ro is the right way-ish? At the malls in New Jersey I've seen pronunciation keys next to it though: GYRO : "Yee-ro"
Honestly who the f cares, just order it how you want, eat it and shut up, the American way.
Listen Café Athena I'll give you a second chance but at the moment you are skating on thin ice. I want small tasty chicken pieces with souvlaki-ness on them, not something I can make at home for 1/9 the price. Give me Greek rice, lemons on the side to put on everything, more than a thimble-ful of tzaziki, better bread than that thick weird pita-like bread, better service, better everything.
And I want you to make your own Ji-roes. I don't know when I'll be back but when I do that's what I want.
Love, customer feedback 101,
George Caye
Café Athena:
1846 Garnet Ave.
San Diego, California
(858) 274-1140